Description
"Welcome!
Welcome to your personal Hideout! Now it is and old bomb shelter clogged with rubbish, but by making an effort you can make it a full-fledged underground base with everything you need for comfortable living.

You can use items and resources found in raids or purchased to build and improve areas of the Hideout, many of which will give you special bonuses and abilities - increased rate of off-raid health regeneration, energy and hydration, boosted skills leveling, the ability to craft various items, etc.

The Escaping from Tarkov can take quite a while, and you need a place where you can regroup and regain strength. This is the place - your Hideout.

Good luck!"
Features
Modules
Retired Modules
Christmas tree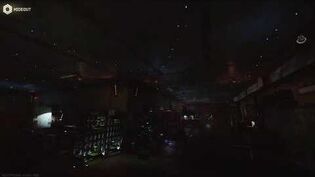 "Decoration of your harsh hideout with garlands and a Christmas Tree. Let your home be more comfortable and festive at this difficult time for Tarkov."
Construction Requirements:
Construction time: Instantly
Bonuses:

Christmas tree and lighting option Christmas lights

Production:
Consumable goods
Trivia
Gallery
Images
Videos
Patch Changes
Announcement
"The process of escaping from Tarkov is not as quick as it may appear from the outside. Your character needs a place to settle down to gain strength, store supplies, stash discovered gear and weapons. In other words, regroup before setting out to achieve the main goal of the game.
The Player begins the construction and arrangements of the Hideout from the scratch - initially it is found as an abandoned and cluttered up bomb shelter without any means of life-sustaining. Consistently building and improving the Hideout modules, such as the power generator, water collection system, ventilation, medical treatment facility, recon center, heating, bathroom and many others, players improve various parameters of their characters, such as out-of-raid health, hydration and energy regeneration speed.
The player also gets special opportunities for the production of medicines, ammunition and other items from various resources. Recon center improvements provide new opportunities of working with merchants and playing as Scavs and much more.
Each module, there are already over 13 of them in production now, has unique bonuses, and requires a unique scheme for building. The player will need different resources, access to a variety of merchants and necessary skill levels to unlock the module installation capabilities and the possibilities for their improvement.
To maintain the Hideout operational condition, the first thing a player will need to install is the generator, which consumes fuel. With a lack of fuel, production and regeneration of characteristics will be slowed or disrupted. It should also be noted that the size of the cache will directly depend on the level of Hideout cache. Players with a Edge of Darkness Limited Edition will receive the cache at maximum level - Level 3.
In addition to the basic modules of the Hideout, the player will be able to install elite modules that drastically improve living standards and security, accelerate skills leveling, allow producing unique items and resources, and simply add warm feel and comfort in your new home."
See also
References